Colon cancer is one of the main causes of death for Thai people and the cancer is one of the top 3 types of cancer found in Thai people. The cancer is often found in the large intestine more than the small intestine. The main cause of colon cancer is not yet found, but it is believed that there are many factors that could cause the cancer e.g. eating habits, gene mutation, genetics, aging, Enterocolitis, lack of exercise, smoking, alcohol consumption and etc.
You can reduce the risk of getting colon cancer by doing the following:
1. Change your eating habits: Eat all 5 food groups regularly, especially fruits and vegetables. Avoid eating meat and food with fats. Avoid food that's salty, sweet, and oily as well as burnt meat (products from grilling, frying and fermented). Avoid smoking as well as alcohol consumption. Parents should start teaching their children the good eating habits from the young age.
2. Exercise Regularly and getting enough sleep will make you healthier. Exercising will help reduce the risk of you getting the colon cancer, as well as many other diseases.
3. Having a good mental health with no stress. Good mental health is as important as having a good physical health. Therefore, mental health is very important and should never be overlooked.
4. Control the excretory system; consume high-fiber foods in order to help the excretory system.
5. Do regular health check-up (especially when you think something is wrong) for example having regular flatulence, when blood is found together with your feces, weight loss chronically, having sudden amenia and those whose relative had history of colon cancer should have their colon checkup once a year.
Recommend Products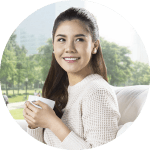 iShield Extend the good times, with continuous critical illness cover.
An alternative to help protect you and your family's happiness from critical illness. Plan now, do not let critical illness devastate your life.
Benefits

Short premium payment period and level premium to support longer happier times

70 Critical illness covered by iShield, both early stage and major stage critical illness

Basic policy premium is tax deductible (Subject to revenue department announcement)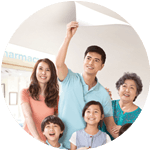 The new definition of Critical Illness insurance

that covers up to 100 critical illnesses from early to intermediate to severe stages, allows multiple claims of up to 6 times sum assured, and assures that your policy will remain in effect even when diagnosed with a critical illness.
Benefits

Coverage of up to 100 illnesses from early to severe stages

Multiple claim benefit of up to 5 times sum assured

Additional 10 juvenile illnesses (total of 6 times sum assured for children aged 1 month - 18 years old)