Heart disease is one of many critical diseases that has already killed many Thai people. However, if you look after your health well enough and change the habits that are toxic to your health then the disease is preventable. We have these 6 easy steps that you could follow to prevent yourself from getting heart disease.
1. Only consume food that is good for your health, avoid eating food with lots of fats, salt, sugar or food with high cholesterol e.g. offal, seafood, butter, margarine and fried foods etc.
2. Exercising regularly will help with the blood flow and reduce high blood pressure, reduce cholesterol levels and will also keep the weight at the appropriate level.
3. Reduce the Low Density Lipoprotein (LDL) level because LDL will stick to the blood vessels, which will make the blood vessels more narrow and will then eventually cause blood blockage and can cause atherogenesis. At the same time, you should increase the level of High Density Lipoprotein (HDL), HLD is produced by liver, and its job is to remove the LDL away from the blood vessels.
4. Avoid consuming alcohol, quit smoking and avoid the passive-smoking.
5. Mental health is as important as physical health, try not to be stressed and be relaxed.
6. Do regular health checkups, check blood pressure and hyperlipidemia, to prevent high blood pressure which is one of the early symptoms of heart disease, especially for those who are 40 and above years old.
Heart disease symptoms are heart palpitations, irregular heartbeat, shortness of breath, chest pain, swollen legs, extreme weakness, nausea and irregular amount of palm sweat.
Recommend Products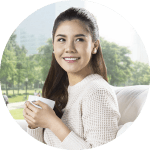 iShield Extend the good times, with continuous critical illness cover.
An alternative to help protect you and your family's happiness from critical illness. Plan now, do not let critical illness devastate your life.
Benefits

Short premium payment period and level premium to support longer happier times

70 Critical illness covered by iShield, both early stage and major stage critical illness

Basic policy premium is tax deductible (Subject to revenue department announcement)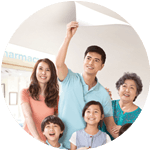 The new definition of Critical Illness insurance

that covers up to 100 critical illnesses from early to intermediate to severe stages, allows multiple claims of up to 6 times sum assured, and assures that your policy will remain in effect even when diagnosed with a critical illness.
Benefits

Coverage of up to 100 illnesses from early to severe stages

Multiple claim benefit of up to 5 times sum assured

Additional 10 juvenile illnesses (total of 6 times sum assured for children aged 1 month - 18 years old)