Everyone is scared when hearing the word 'cancer', the medical world has evolved, even some type of cancer is curable. However, if we are still living a carefree life, eating unhealthy food and not looking after your health, then there's a high chance that cancer can return. Therefore, we should look after ourselves, changing our lifestyles, especially the food we consume. We should stop eating food that contains high level of fat and start eating healthier food like fruits and vegetables because there are minerals and vitamins that could prevent cancer, as following:
1. Tomato has Lycopene which contains antioxidant which helps reduce the risks of getting many types of cancer including lung and stomach cancer.
2. Pineapple has beta carotene which contains antioxidant and vitamin C, which help improve the body's immune system.
3. Papaya contains Vitamin A, B and C, reduces risks of getting cancer and stabilize the excretory system
4. Turmeric contains curcuminoids, which helps reduce the cholesterol level and as a result, reduce risks of having heart and Coronary Artery disease. Turmeric can also reduce inflammation and the growth of certain cancer cell; therefore turmeric is considered a good cancer treatment herb.
5. Green tea helps reduce the risk of having cancer, however, only brewed green tea will have the full nutritional benefit. However, if green tea is too hard to find, then freshly squeeze juice is another way that could help reduce the risks of getting cancer.
6. Chili helps the metabolic system and also reduces the risk of getting cancer, if consume at the appropriate amount.
7. Ginger has gingerol, which absorbs cholesterol and prevent colon cancer.
8. Beans has protein and fiber, help reduce the risks of getting colon cancer.
9. Job's tears has vitamin A, potassium and fiber, which helps reduces the symptoms from beriberi, prevents you from getting ulcers, improve the kidney functions, lungs and stomach.
All of these 9 fruits and vegetables only help reduce the risks of getting cancer, not cure cancer. Therefore we should change our eating habits, as well as exercise for the better health. If you want to make sure that you are cancer free then you should find out for more information at the cancer center near your homes.
How to look after yourself if you have cancer?
First of all, the basic hygienic care is to maintain the body's cleanliness to reduce the risks of any kind of infections, because infections are the main obstacles for cancer treatment. Moreover, you have to look after your body and your mind, you should exercise regularly and should not be overly worried. You should also write down all the relevant information when seeing the doctor, as well as eat all 5 food groups in every meal.
Lastly, you can be far away from cancer by changing your lifestyle. Stop having the fun lifestyle, party less and exercise more, eat healthy, get enough sleep and also buy health insurance.
For more information, click
Recommend Products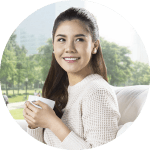 iShield Extend the good times, with continuous critical illness cover.
An alternative to help protect you and your family's happiness from critical illness. Plan now, do not let critical illness devastate your life.
Benefits

Short premium payment period and level premium to support longer happier times

70 Critical illness covered by iShield, both early stage and major stage critical illness

Basic policy premium is tax deductible (Subject to revenue department announcement)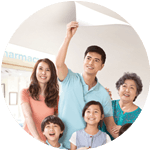 The new definition of Critical Illness insurance

that covers up to 100 critical illnesses from early to intermediate to severe stages, allows multiple claims of up to 6 times sum assured, and assures that your policy will remain in effect even when diagnosed with a critical illness.
Benefits

Coverage of up to 100 illnesses from early to severe stages

Multiple claim benefit of up to 5 times sum assured

Additional 10 juvenile illnesses (total of 6 times sum assured for children aged 1 month - 18 years old)