Things are constantly changing in this new era and diseases are no exception, with many mutating into new forms that are also incurable. Even a simple flu could turn out to be something abnormal and so therefore, you must visit the doctor immediately no matter how big or small you think your symptoms are.
Let's find out what the flu is and what their symptoms are, in order to prepare for it. The flu comes from the influenza virus and there are 2 types, Type A and Type B. The influenza viruses are constantly mutating and therefore scientists must keep updating the vaccines in order to cover all the viruses that cause the flu. After 2 weeks of vaccinations, your body will be immune to the flu for about a year.
For this year's influenza vaccine contains virus subtypes as follows:
Influenza A virus (H1N1)
Influenza A virus (H3N2)
Influenza B Victoria virus
Influenza B Yamagata virus
Therefore, those who have been vaccinated by all 4 subtypes of the vaccine will have a lower risk of catching the flu.
So, what are some of the flu's symptoms?
Here are the following symptoms:
Those who have already received the influenza virus will fall sick 2 days after receiving it. The symptoms include high fever, chills, frequent headaches, muscle aches, stuffy nose, fatigue, coughing, vomiting and may also have diarrhea. The influenza virus can be easily spread through the air from coughing and sneezing by patients with the flu, as well as touching items that have been contaminated with the virus.
How to prevent yourself from the influenza virus?
- If you already have the symptoms, you should always wear a mask to prevent the virus from spreading
- If you are coughing or sneezing, you should cover your mouth with tissue paper and throw them in the bin after use
- Wash your hands frequently; before and after your meal, after you sneeze, cough or blow your nose.
- Avoid being near other flu patients, especially those who are coughing, sneezing or have high fever.
- Avoid being in crowded areas, especially during the flu-spreading season. However, if it is unavoidable then you must wear a mask, particularly children, the elderly or those with low immunity.
- If you are sick, you should take the day off from Work/School and stop any activities with people in order to recover faster and not pass it onto others.
- Those in the high-risk group should get themselves vaccinated immediately
- The most important thing is to stay healthy by getting enough sleep, eating fruits and vegetables and exercising regularly.
The influenza virus is constantly mutating and therefore new viruses could be found in both animals and human, and the existing immunity in animals and people may not be able to prevent the disease. Moreover, the effectiveness of the flu immunity in our bodies may decrease in a short period of time. By getting vaccinated every year, it will stimulate the immune system to be ready for the new influenza virus.
You must always observe yourself. If you have high fever, are feeling discomfort or are sneezing heavily, do not think that it is not serious because you might be getting the flu. Therefore, it is best to see the doctor immediately.
Recommend Products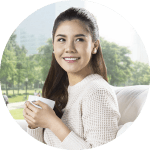 iShield Extend the good times, with continuous critical illness cover.
An alternative to help protect you and your family's happiness from critical illness. Plan now, do not let critical illness devastate your life.
Benefits

Short premium payment period and level premium to support longer happier times

70 Critical illness covered by iShield, both early stage and major stage critical illness

Basic policy premium is tax deductible (Subject to revenue department announcement)