Being born as a woman comes with great physical responsibilities because our body changes constantly, from being a child to teenager to adults and then to menopause. Different people have different reactions to those changes, while some do not react to it at all or some could even experience pain and sometimes that pain is the result of cancer.
So what types of cancer should women be careful of?
The national cancer institute said that there are 5 types of cancer women should look out for which are breast cancer, cervical cancer, colon cancer, lung cancer and endometrial cancer. Women are at the most risk of getting these types of cancer. Let's see how we can prevent ourselves from getting them.
1. Breast cancer is the number 1 type of cancer found in Thai women, the risks are higher with age, found especially in women above 50 years old. However, younger women are also at risk of getting breast cancer. There are other risk factors that could cause breast cancer like genetics, genes mutation or having too much estrogen in the body. Furthermore, living the unhealthy lifestyle can also be the cause of cancer such as not exercising, being overweight and consuming large amounts of alcohol often. The prevention of breast cancer is to always observe yourself. If a lump is found around the breast, or under the armpit, or you find that there's a wound around your nipple or nipple dimpling, you should see the doctor immediately. Women aged 40 and above should do a breast cancer check-up every 1-2 years.
2. Cervical cancer is the 2nd most common type of cancer found in women. This type of cancer can happen to any women who's had sexual intercourse as 90% of the patients have caught the virus via the sexual intercourse. There are also other factors that caused cervical cancer for example, women aged 40-50 or those who have had sexual intercourse since a very young age, those who have had several sexual partners, and even those who have given birth to many children. There are early signs of cervical cancer, therefore you have to observe yourself and see if there's any irregular vaginal bleeding or irregular menstruation or even vaginal bleeding in your menopausal age. If any of the above happens, please see the doctor immediately. An easy way to prevent yourself from getting cervical cancer is to do a check-up within 3 years of sexual intercourse, but if you have not had any sexual intercourse then you can begin the check-up after the age of 30.
3. Colon cancer: the main cause of the disease is not yet found but it is usually genetics. People aged 50 and above who like high fat foods, grilled food and does not like vegetables and fruits are more likely to get colon cancer than those who have a healthy lifestyle. If you regularly have diarrhea, constipation and your stools are smaller along with vomiting and feeling weak then you should see the doctor immediately.
4. Lung cancer is very common and very severe as the death rate is up to 60%. The main cause of this disease, as we all know it, is from smoking. However, those who has never smoked before can also be at risk of getting it via passive smoking at a very young age. The symptoms of this disease usually appear during stage 3-4, which are dyspnea, exhaustion, breathlessness and lung infection. Therefore, the best way to avoid getting lung cancer is to stop smoking and inhaling the toxic fumes. You should also see the doctor for lung check-ups.
5. Endometrial cancer is the 5th most common cancer found in women. This type of cancer is mainly to do with female hormones. Those who have menstrual irregularities, volatile hormones, vaginal bleeding after the menstrual cycle is over, overweight and diabetic are more at risk of getting endometrial cancer. Therefore, those with menstrual irregularities should see the doctor immediately.
With these 5 types of cancers, the main reasons why women are susceptible is because they're overweight, consume high fat foods, do not exercise regularly and stress too much which affects the hormones directly. All of these then increases the risk of getting all types of cancer. Therefore, the best way to prevent getting cancer is to control what you eat, rest well, exercise regularly, find any de-stressing activities and most importantly, see a doctor for a check-up at least once a year.
Recommend Products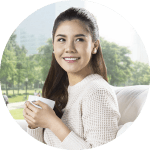 iShield Extend the good times, with continuous critical illness cover.
An alternative to help protect you and your family's happiness from critical illness. Plan now, do not let critical illness devastate your life.
Benefits

Short premium payment period and level premium to support longer happier times

70 Critical illness covered by iShield, both early stage and major stage critical illness

Basic policy premium is tax deductible (Subject to revenue department announcement)