Have you ever suddenly felt tired? Have a difficult time breathing? And suddenly experience a tightening of the chest? Don't wait until it's too late because these are the early signs of the coronary artery disease.
Coronary artery disease is caused by the degeneration of the blood vessels. The degeneration of blood vessels is caused by a large amount of fat clogged in the arteries, reducing its flexibility and becoming thicker which results in reduced blood flow. This then makes the body work harder which in turn results in stress both physically and mentally, which then leads to high blood pressure and finally, broken blood vessels.
From all that we've mentioned above, Coronary artery disease is something that can affect anybody because the main cause of the disease is from our eating habits. We usually need to consume all 5 food groups every day, for every meal. However, with the change in the society, fast food became popular as everybody is always in a rush to be at work, school etc. But did you know that the delicious fast food is not good for you? As it comes with lots of fat and carbohydrates which is the main cause of Coronary artery disease.
Symptoms of Coronary artery disease
1. Left chest pain
2. Overly tired during physical movements or exercise
3. Acute high blood pressure
4. Acute heart failure and unconsciousness
Coronary artery disease is life threatening if you do nothing about it, as you grow older, the chances of getting the disease is higher. This disease can happen to both men and women, especially those who smoke, has high blood pressure and are overweight.
So, is there a cure for Coronary artery disease?
If the doctor finds that the patient has only a partial coronary artery, then it can treat with medicine. However, if the condition is severe, the treatment will have to be the installation of a heart balloon. However, if the heart balloon option does not work then heart surgery is the best option.
So, how should you look after yourself to not get the Coronary artery disease? 5 ways to prevent yourself from the coronary artery disease:
1. Avoid sweet, salty and oily food
2. Exercise regularly
3. Have enough sleep and don't stress
4. Maintain your weight
5. Health check-up once a year
There are many ways to avoid and reduce the chance of getting the coronary artery disease and you can mostly do it yourself. Therefore, we should start looking after our health together, starting today before it's too late.
Recommend Products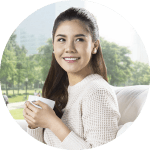 iShield Extend the good times, with continuous critical illness cover.
An alternative to help protect you and your family's happiness from critical illness. Plan now, do not let critical illness devastate your life.
Benefits

Short premium payment period and level premium to support longer happier times

70 Critical illness covered by iShield, both early stage and major stage critical illness

Basic policy premium is tax deductible (Subject to revenue department announcement)