Nowadays, we have often heard about depression from media, especially as it is happening to many celebrities who committed suicide. The doctor prescribed that they suffered from the depression. This leads us to come to conclusion that this mental illness occurs only with teenagers or adults since they strive for success, recognition, and pride. However, in fact, Department of Mental Health once revealed that out of the total 1.5 million Thais who suffer from the depression, 26.5% of them are the elderly. If any family, thus, has grandparents, you should not overlook since this illness can be life-threatening.
What is depression?
Late-life depression can occur after the age of 60. It can be divided into 2 forms: pre-old age and post-old age depression. Generally, female old adults may develop the symptoms more than men, especially those who get divorced or lose their loved one. The causes of this illness can also be divided into 2 categories which are the physical and mental changes in the old adults. These can affect their thought. For example, they may think that they are valueless or a burden for others in a family. Some may be triggered by mental disorder including major depressive disorder and bipolar disorder, which is resulted from chemical imbalance in the brain. This type of patients, therefore, should consult a psychologist since they may develop other complications.
The symptoms of depression
The symptoms in seniors may range widely, from slightly depressed to severely mentally ill. The following symptoms can be seen.
- The change of moods, for example, from calm to easily angry and less rational.
- Loss of interest in living or participating in activities, less talk, negligence of appearance, loss of weight and appetite, etc.
- Insomnia or having a wakeful night
- Problem with memory and decreased concentration
- Thought of death or suicide or desire to hurt themselves which can be reflected from his or her slip of the tongue, such as "It would be better if I die."
- Loss of energy and unexplained aches and pains
The treatment of depression
1. If the root cause is directly from mental disorder, you need to talk to a psychologist. The medications will be used to control the symptoms.
2. If it is caused by mental or social issues, it may require understanding among family members. Take care of the patient with love.
How to treat an older adult with depression
Apart from giving love, care, and respect, everyone in the family must control the factors contributing to the disorder. There is a strong possibility for the elderly, though recovering, that the symptoms may occur again, so you should take a good care of them.
1. Take care and try to understand feelings of the patient by talking and listening to their story.
2. Control the patient's blood sugar level. This will help freshen up the elderly people. If the sugar level is low, they will get tired easily.
3. Find and create activities to do with the elderly in order to restore physical, mental, and emotional ability, such as cooking, gardening, babysitting grandchildren, exercising, etc.
4. Keep sharp objects, weapons, and poisonous substances out of reach of the patient.
5. Do not increase or reduce the doses of medications arbitrarily.
6. Go to an appointment with the doctor every time until fully recover.
Depression is a silent killer that harms the mental conditions of the patient. It can be cured by the help of those who are close to the patient. However, when it comes to the health problem, a doctor and healthcare provider will play a role. Therefore, having a health insurance is a good solution. Not only you can have your health checked every time it is needed, but also the insurance can protect you no matter where you are in the world.
Recommend Products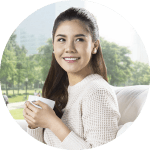 iShield Extend the good times, with continuous critical illness cover.
An alternative to help protect you and your family's happiness from critical illness. Plan now, do not let critical illness devastate your life.
Benefits

Short premium payment period and level premium to support longer happier times

70 Critical illness covered by iShield, both early stage and major stage critical illness

Basic policy premium is tax deductible (Subject to revenue department announcement)