Healthy Family, it's what everyone is wishing for. A lot of families are trying to promote a healthy lifestyle by involving the whole family, at all ages from a child to an elder, for example cycling, aerobic dancing or even choose a healthy meal. All of these are a very good start to looking after your health. However, there are common diseases for each age group that should never be overlooked. Apart from exercising regularly, you should also keep an eye out for the following symptoms in each age group.
New born – 5 Years old
This is the age group where they are growing up and nutrition is very important in order to avoid malnutrition disease. The malnutrition disease can cause growth disorder and parents should control the amount of nutrition in the child's food, exercise regularly, get your child vaccinated in order to avoid having Iodine deficiency condition which could then cause Mumps, Pertussis (whooping cough) and Diphtheria.
Teens age 10 – 22 years old
This is the age where the hormones in their body are changing, therefore is it important to look after both the body and mind. At this age, health conditions will affect their self-confidence like pimples and body odour. Parents should explain to them that whatever is happening to them is normal and they should also be advised the correct and hygienic way of looking after themselves. Another condition that this age-group should also be careful is being overweight because they could be at risk of being diabetic, teens should consume all 5 food groups, exercise regularly, and play their favourite sports in order to stay healthy.
Working age 23 – 45 years old
This age group barely has time to look after themselves and consequently, are at risk of having many diseases, for example, Diabetes, by having food with too much carbohydrate or having bubble tea and drinks with high level of sugar every day during the working days is also the cause of having diabetes. Dyslipidemia is caused by consuming alcoholic beverages after work regularly as well as not exercising enough. Office syndrome is caused by not sitting in the correct posture all day. Migraine is caused by stress and all the pressure at work. Gastritis is caused by the accumulated stress and not eating on time, as well as having spicy food can also be the cause of Gastritis. Gastroesophageal reflux disease is caused by the bad eating habits for example not eating on time, eating late at night, eating lots of spicy and sour food as well as smoking, these are all the cause for Gastroesophageal reflux disease. If you don't want to have all these diseases, we suggest that you look after yourself by exercising regularly and stop saying you're too busy to do so.
Elderly or retirement age
This is the age where they need that extra attention. For any household with elderly, they should be taken out for some light exercising like water-walking in order to prevent the already-weak-bones to break. Choose healthy menus that are easy to eat (soft) because of the sensitive and weak teeth. Some elderly might have a heart disease or vascular disease especially those small blood vessels that bring blood to feed the kidney, brain and heart. They should be taken to the hospital immediately if they are easily tired.
From this article, you can see that each age group faces different kinds of diseases. Therefore it is best to look after your health from an early age rather than later. Just like choosing the right Health Insurance for the family, is another good way of looking after your health, knowing that you are in good hands. iHealthy, health insurance from Krungthai-AXA that protects and covers all your needs, anywhere, anytime. We look after you during all stages of your treatments from normal patients, pregnant mothers, eye-related conditions, dental care, get you regularly vaccinated as well as other special healthcare related offers.
Because not having any diseases at all is a blessing, therefore looking after yourself from an early age is important
For more information, click
Recommend Products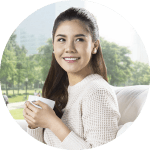 iShield Extend the good times, with continuous critical illness cover.
An alternative to help protect you and your family's happiness from critical illness. Plan now, do not let critical illness devastate your life.
Benefits

Short premium payment period and level premium to support longer happier times

70 Critical illness covered by iShield, both early stage and major stage critical illness

Basic policy premium is tax deductible (Subject to revenue department announcement)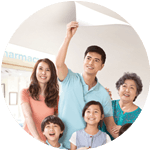 The new definition of Critical Illness insurance

that covers up to 100 critical illnesses from early to intermediate to severe stages, allows multiple claims of up to 6 times sum assured, and assures that your policy will remain in effect even when diagnosed with a critical illness.
Benefits

Coverage of up to 100 illnesses from early to severe stages

Multiple claim benefit of up to 5 times sum assured

Additional 10 juvenile illnesses (total of 6 times sum assured for children aged 1 month - 18 years old)