In this article, I recommended that the elderly should have a regular aerobic exercise session such as walking at least 3 times per week. The duration of the exercise should begin with 10-15 minutes at first, then gradually increase the duration until it reaches approximately 30-45 minutes. The suggested intensity level of exercise is at the level at which you can say in a short sentence while performing the activity. Here, I will talk about which group of elderly can exercise and the exercise precautions.
To exercise or not to exercise?
1. Avoid exercising if they are suffering from the following diseases – acute myocardial infarction (heart attack), acute cardiac arrhythmia (irregular heartbeat), acute heart failure, pulmonary disease, liver disease, acute or severe kidney disease, phlebitis, injury involving bone and muscle, hyperglycemia and hypoglycemia.
2. The elderly who do not have the above diseases, other underlying diseases, and other abnormal symptoms can exercise at a moderate level with a very low risk of side effects.
3. The elderly who do not have the above conditions but who have underlying diseases (such as hypertension, diabetes) or other abnormal symptoms are recommended to take light level of exercise with caution. They should consult a doctor before proceeding to the next level.
Exercise precautions for the elderly:
1. The elderly who have never exercised before should start off with light exercise. By observing the heart rate and breathing, they can gradually increase the intensity level of their exercise.
2. A warm up session is also recommended to get ready before exercising because it promotes blood flow to the muscles, increases the body temperature and prevents muscle and joint injury because the muscle elasticity of the elderly is 3 – 4 times less than that of adolescents.
3. A cool down phase is when the body's systems, the circulatory system in particular, return to their normal state. A cool down phase is important because there is an increase of blood flow to arms and legs of 4 – 5 times the normal rate during exercise. When ending an exercise period too abruptly, blood pressure drops and the blood supply in the brain decreases, resulting in dizziness. These effects may induce the symptom of angina or chest pain in the elderly that have a coronary artery disease.
4. An above average heart rate, sleep disorder, muscle fatigue are the signals telling that the elderly are over-exercising.
5. Do not take a shower immediately after exercising. Allow your body temperature to cool down for 5 – 10 minutes and do not use excessively hot water.
6. Avoid exercises which instruct you to hold your breath because it could increase your blood pressure.
7. Avoid participating in any competition because the excitement can trigger the autonomic nervous system and lead to an irregular heartbeat.
8. Do not exercise when feeling feverish or unwell. If the elderly temporarily stop the exercise and want to resume, do not start exercising too vigorously at the beginning. Reduce the intensity level then gradually increase the challenge.
9. Wear appropriate clothing and footwear to prevent an accident while exercising.
10. Set up an appropriate exercise environment, for example, in a spacious area with good air conditioning.
The next article will discuss on how to encourage the elderly to exercise regularly, which will be the final part of this series. Please stay tuned!

SINTIP PATTANAKUHAR
Rehabilitation Physician
Rajavej Chiangmai Hospital
Recommend Products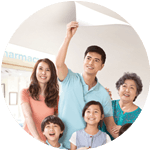 The new definition of Critical Illness insurance

that covers up to 100 critical illnesses from early to intermediate to severe stages, allows multiple claims of up to 6 times sum assured, and assures that your policy will remain in effect even when diagnosed with a critical illness.
Benefits

Coverage of up to 100 illnesses from early to severe stages

Multiple claim benefit of up to 5 times sum assured

Additional 10 juvenile illnesses (total of 6 times sum assured for children aged 1 month - 18 years old)