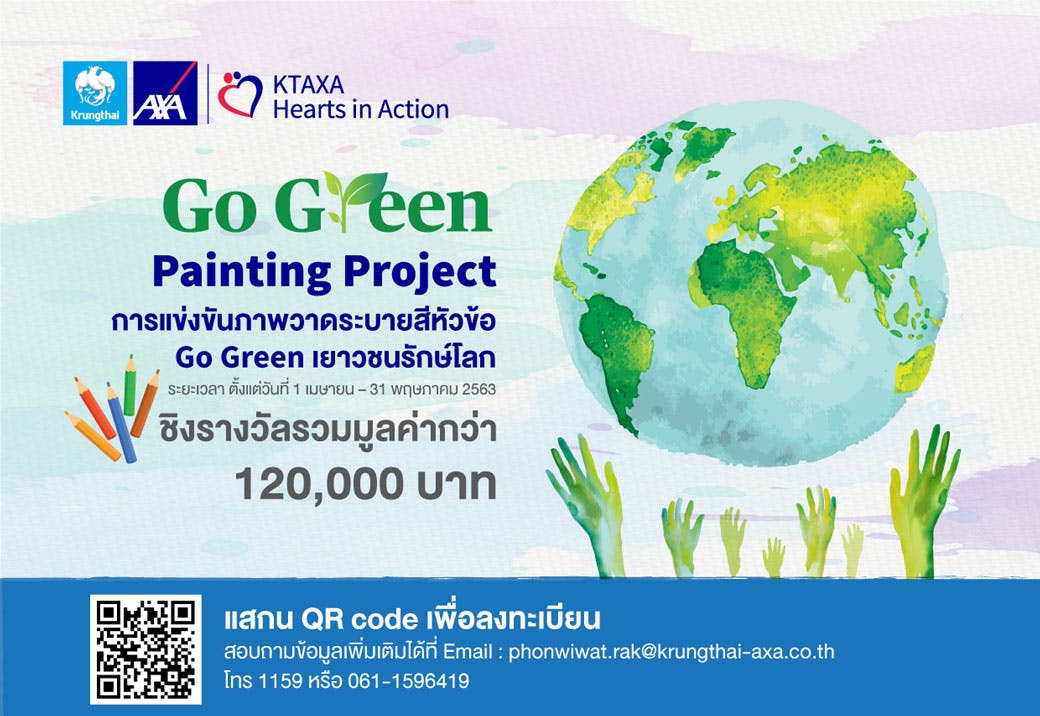 Krungthai-AXA Life, the number one Green Insurance Company, has launched a children's painting contest under the theme 'Go Green'. The initiative targets young people between the ages of 13 and 18, and aims to raise awareness about global warming while nurturing youths' creative talents.
The artwork should illustrate themes about protecting the environment and climate change solutions and must be submitted by 31st May 2020. Participants also stand a chance to win up THB120,000 as well as certificates and plaques. The winning art works will also feature in the Krungthai-AXA Life 2021 calendar.
Commenting on the initiative, Ms. Sally O Hara, CEO Krungthai-AXA Life said "Art has a unique way of propelling communities toward change by raising awareness of pertinent issues such as climate change, through visually-pleasing and compelling imagery. Krungthai-AXA Life wants to help develop and nurture environmental awareness amongst children so they can play their part in reducing the impact of global warming and ensuring inclusive sustainable development for all."
The competition is part of the KTAXA's overall 'Go Green' climate change strategy that sets out ambitious targets to further protect the environment and empower people to live a better life. The initiative is also aligned with our Brand Promise - 'Know You Can' - as it encourages the younger generation to believe in themselves and 'know they can' create a cleaner environment and build a better future.
Check out the full rules and regulations at phonwiwat.rak@krungthai-axa.co.th or call our Customer Contact Center at 1159, 24 hours everyday or 061-159-6419 and get to work on your most imaginative and impressive artwork to help fight the very real problems of climate change!