Is buying an insurance a way to get tax deductions?
There are many ways to deduct the amount of tax you have to pay per year. For those who want to protect their life from risks and health-related issues, having the financial stability as well as tax deductions, then life insurance is the answer. Buying a life insurance is a good choice as the insurance premium count as one of the allowances that could reduce your taxes. Generally, different insurances have different benefits, and therefore the amount of allowances that can be deductable varies. Therefore, in order to buy an insurance for this purpose you must consider different elements that suit you the best.
There are 3 types of life insurance that could be used for tax deductions: 1. Whole life and savings, 2. Annuity insurance and 3. Health insurance. However, the insurance policies must be for a minimum period of 10 years in order for the insurance to be eligible for a tax deduction, except a tax deduction on extra health insurance.
In order to choose the insurance that suits will also depends on the type of protection you need. You must also think about your financial status for the insurance premium as well as the amount of allowances for tax deduction, which varies per year.
In order to choose the insurance that will benefit in deducting your taxes, we (Krungthai-AXA) would like to recommend the insurance that meets your needs, by considering the benefits you will receive from the insurance before you consider other benefits regarding your tax deductions. You should also calculate the appropriate amount of insurance premium you are able to pay in order to fully benefit from the insurance and the tax deduction per year.
For example:
Annuity insurance (iRetire) the insurance that allows you to spend your retired life happily. You can start planning your future right after you're retired.
iRetire 1 Only pay for insurance premium once
iRetire 5 Pay for insurance premium for 5 years
Can get tax deduction up to 200,000 bath*
The health insurance iHealthy, the insurance that covers all medical expenses, anywhere, anytime. Covers all medical expenses for in-patient no more than 100 million baht per year.
Covers extra expenses from Cancer and Kidney disease including dialysis, and chemotherapy for both in-patient and out-patient.
Can get tax deductions up to 15,000 baht*
Life-long insurance for critical illness iShield that covers all stages of critical illness from beginning to severe stage up to 70 diseases
iShield covers 70 critical diseases from all stages: beginning to severe. 20 diseases in the beginning stage and 50 diseases in the severe stage.
Medical expenses can be claimed multiple times for the beginning stage without waiting.
Can get tax deductions up to 100,000 baht for the life insurance premium.*
Life-long insurance Life Legacy that could help you plan your will and estate for your loved ones.
you can choose to pay for your insurance premium in 2 stages which are: you can choose to pay until you're 60 years old or 99 years old.
Insurance premium is low
This will be exempt from personal income tax under the Revenue Code*
Can get tax deductions up to 100,000 baht*
Buying insurances does not only allow you to have your personal income tax deduction but also allow you to plan your life and your financial arrangements as well as having your life and health insured. In order to fully benefit from the insurances, you have to choose the plan that meets your needs from the type of insurance, amount of insurance premiums, duration of paying off the insurance premium and also the amount of tax deductions you will get per year.
However, for the year 2018, if taxpayer would like to use the insurance premium for tax deduction, the insurance company must be informed in order for the company to give the insurance premium information to the revenue department – so that the taxpayer do not have to submit extra documents for the tax deduction.
*All terms and conditions are subject to the discretion of the Revenue Department Thailand.
Recommend Products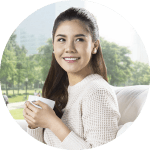 iShield Extend the good times, with continuous critical illness cover.
An alternative to help protect you and your family's happiness from critical illness. Plan now, do not let critical illness devastate your life.
Benefits

Short premium payment period and level premium to support longer happier times

70 Critical illness covered by iShield, both early stage and major stage critical illness

Basic policy premium is tax deductible (Subject to revenue department announcement)