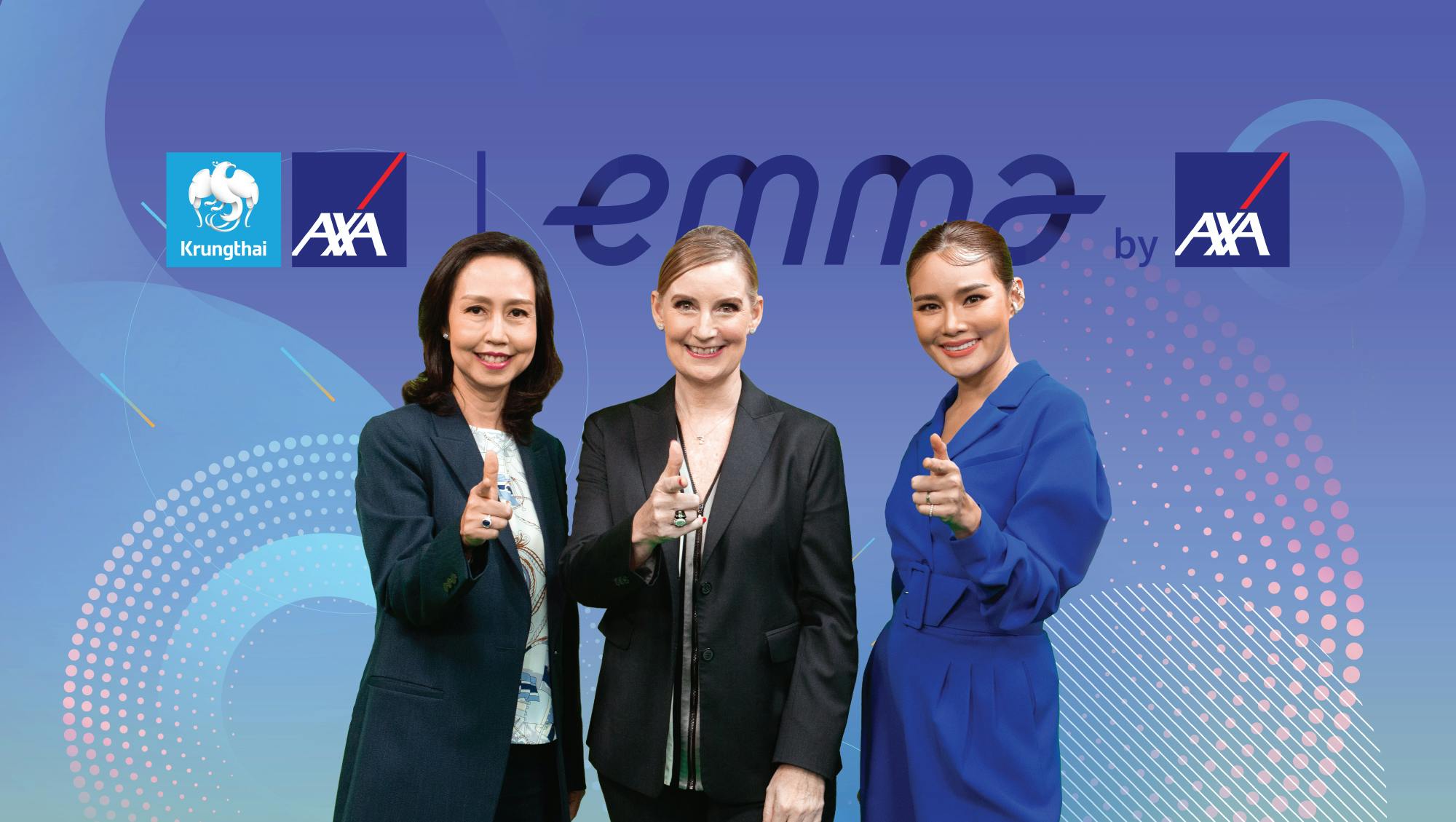 Krungthai-AXA Life Insurance, a leader in life and health insurance has introduced a new application, "Emma by AXA", an all-in-one insurance and digital health application, giving customers convenient access to vital healthcare services and policy information at the touch of a button.
Mrs. Sally O'Hara, Chief Executive Officer of Krungthai-AXA Life Insurance Public Company Limited revealed, "Advances in technology, as well as a behavioral step change in digital adoption by customers as a result of the pandemic, makes this the perfect time to introduce Emma by AXA to the Thai insurance market. Putting our customers first is at the core of everything that we do, and right now we're seeing a growing demand for health insurance & wellness services, as well as an interest in a customer experience which blends the best of interactions with our professional agents and advisors, with innovative and intelligent digital self-servicing tools. The recently launched "Emma by AXA" application provides an intelligent, empathetic virtual assistant for our customers, enabling them to seamlessly navigate insurance matters while also supporting their individual and family's health, wealth and life needs in a unified experience. Emma by AXA is available across AXA's network in Asia, including Hong Kong, China, Japan and the Philippines, with Indonesia launching soon. In Thailand, Krungthai-AXA Life provides health insurance to approximately 500,000 customers, with retail health policy sales up 45% on last year as of August 2021. We expect 300,000 customers to register for Emma by AXA by the end of 2021 and for this to increase to 500,000 in 2022.
Mrs. Sally O' Hara added, "Emma by AXA is the cornerstone of how Krungthai-AXA Life is digitalising its services and moving from being a Payer to a Partner. With Emma, we're supporting our customers' holistic wellbeing across their life journey which matters to us as leadership in health is a core priority for the company."
Mrs. Pakawipa Charoentra, Chief Customer Officer, Krungthai-AXA Life Insurance Public Company Limited, commented that "Today digital plays a vital role in people's daily lives. The current pandemic has created a greater sense of awareness of the need to take better care of our health. Emma by AXA is designed to help people achieve this care, by acting as a personal digital assistant and providing solutions to ones' health and insurance related concerns. Therefore, this application is a unique service which differs from other applications. Emma by AXA provides a wide range of complementary health services including Symptom Checker, an AI-powered chat functionality that integrates algorithms from top U.S. medical group, Mayo Clinic. Customers also have access to Telehealth, which provides online doctor interactions, advice, and care delivered electronically and includes transportation to the hospital if required, plus the convenience of a home-delivery prescription service. To date, over 7,000 customers have used this service and customer satisfaction with the doctor consultation process is extremely high at 98% for KTAXA's telehealth service. Furthermore, Emma provides full access to the company's directory of network hospitals nationwide, with a direct link to google maps. Policyholders have access to our 'Care Coordination' and 'Second Medical Opinion' services by medical professionals via the application and as well as an extensive digital library of lifestyle and health related articles.
In addition to health services, Emma by AXA provides policy information services. Customers may check transaction history related to their unit linked policy, as well as policy values and fund prices. The application provides policy information services, electronic insurance cards and convenient renewal premium payment functionality via credit card, barcode and QR code. KTAXA's privilege program is accessible through Emma by AXA, offering customers many benefits and gifts to enjoy throughout the year. Emma by AXA is a trusted insurance and healthy living partner, offering customers convenient and quality healthcare services for holistic wellbeing in one application. Building on Emma by AXA's current functionality is a key priority for Krungthai-AXA and in the coming months, we'll be expanding services to include claim status information, Live chat with a customer service agent, policy loan applications and service and a fund switching transaction facility. Emma by AXA is aligned with our core purpose which is to 'act for human progress by protecting what matters' and reinforces the company's commitment to innovation and putting its customers first.
Krungthai-AXA Life has launched an advertising campaign for Emma by AXA. This campaign features two sets of online VDOs; the first video conveys the story of a couple who rely on Emma by AXA for support in their lives and it shows how Emma has helped them successfully address their health concerns; the second advert features Emma by AXA's financial planning assistant and highlights how the application helps people plan their finances to increase their long-term wealth. The premise of both adverts centers on Emma's, accessibility and user-friendliness. Both VDOs feature the renowned actress, K. Ying- Rhatha Phongam, a modern and determined woman who is an expert on all health-related matters and thus mirrors the concept of Emma.
The adverts will be broadcast from October 1st, 2021, through various media including online and digital outdoor media. KTAXA has also organized the 'Emma by AXA Tik Tok Challenge' for everyone to enjoy. Participants are invited to take a VDO or photo using the Emma by AXA filter and sound on Tik Tok, add hashtag #EmmaKTAXA, then post their VDO Tik Tok for a chance to win 350 prizes, valued at 270,000 Baht.
Mrs. Sally O' Hara concluded that "We are excited to introduce 'Emma by AXA' to our customers and believe Emma's personalised approach will provide vital support through convenient online care. Emma by AXA reinforces Krungthai-AXA Life's 'Know You Can' brand promise, which is about encouraging self-belief and supporting and protecting our customers."
For more information about Emma by AXA or the company's products or services, please contact us at 1159 (24/7) or visit www.krungthai-axa.co.th.