If your hands start to get shaky, but you're not cold (which is rare, when you're in Thailand) or your hands shake when you're resting and not moving but when you move, your hands stop shaking? If these symptoms happen to you then it's time to see a doctor because these are the early signs of Parkinson's disease.
So what is Parkinson's disease? The simple explanation would be that it is the disease caused by the degeneration of the brain and nervous system. The disease is often found in the elderly and currently there is no cure. Parkinson's disease is the 2nd most common disease after Alzheimer's disease which is found in those who are 65 years old and above. Patients of Parkinson's disease have movement problems, which is the main symptom of this disease because of brain degeneration caused by the abnormality of the central brain stem, which then slows down the neurotransmitter called dopamine.
So, what are the symptoms of Parkinson's disease?
The first stages of the symptoms are that your movements are slower, your body feels stiffer, you drag your feet when you walk, you shuffle when you walk, you don't swing your arms when you walk, you talk softer, slower and lack of movements on your face. The main diagnoses methods are body-checks and verbal interviews, this is because x-ray, or MRI can only eliminate other diseases out, and it is very expensive. The Thai Red Cross found that there are 425 per 100,000 Thais who has Parkinson's disease, and they are mostly from the central region.
If the Parkinson's disease is found earlier, the chances of having it cured is higher, is that true? Yes, we can confirm that it is true, because the earlier you know, the earlier you can start the treatment. The treatments of this disease are body movements, changing medicine, controlling what you eat and exercising, these will help improve the patient's mind and body. It is suggested that the patients should see the doctor as soon as possible because there are modern treatments, by medicine and surgery to implant electrodes in order to stimulate the brain in some severe cases that treating the disease by medicine isn't effective, which will help improve the patient's quality of life.
How to look after Parkinson's disease patients?
1. Create enthusiasm like doing activities that patients enjoy.
2. Self-esteem, patients need to be confident and have trust in the doctors, family and friends
3. Truly learn about the Parkinson's disease, the more the patients know about the disease, the better they understand and learn how to deal with the disease better
4. Relax and exercise regularly. Apart from eating well and being healthy, patients still need to nourish their mind and body by having enough rest and avoiding any stress situations.
5. Adjust home environment to be safe and to suit the patient's current condition
6. Regularly see the doctor
From all we mentioned above, there is no cure for Parkinson's disease, but if the disease is found early and along with the right treatment, the patient will be able to live a normal life. The most important thing for Parkinson's patients is encouragement.
Recommend Products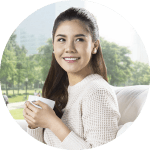 iShield Extend the good times, with continuous critical illness cover.
An alternative to help protect you and your family's happiness from critical illness. Plan now, do not let critical illness devastate your life.
Benefits

Short premium payment period and level premium to support longer happier times

70 Critical illness covered by iShield, both early stage and major stage critical illness

Basic policy premium is tax deductible (Subject to revenue department announcement)