There is no denying that saving money is an important foundation to our lives in the future. Today it is accepted that depositing money at a bank is no longer enough for a long-term plan. For example, deposition for after retirement that an interest tends to be dropping continually as well as living expense is rising every single day.
The main question that follows is…
How much money do you think you need in retirement?
An easy calculation is:
We work and we retire at the age of 60
Plan how to live life until 80
Personal expenses per month is 30,000 Baht
The budget that needs to be prepared is 30,000 baht x 20 Years x 12 Months
= 7.2 million baht although the living expenses in the future could get even higher
When the situation is as explained, think back and calculate how much money you saved each month. You might start to worry on how you are going to save that kind of money, because it is a very high amount of money and hard for many to achieve. But if we know how to save money with benefits of a pension and life insurance, it also could help us live a happy life in retirement.
In that case there is a new method of saving, not only saving money but also able to deal with many aspects of life for example:
• A choice in saving the right amount for ourselves on the goals that we have set
• Savings that is able to return profit in order to build a secured retirement life
• Protection against accidents that can cause disability, and compensated income during sickness
• Build higher yearly income, to comply with higher living expenses
From these 4 points Krungthai-AXA Life has created a product named iWish. Making us able to save money in long-term and also include various protections, all while generating income for us when we retire. Highlights of this product are:
1. A pension is received for both high and low savings:
Retirement savings is very important to everyone whether it is a big or small amount. Be preparing, today is what will lead us to our financial goals. This product is designed to be accessible to everyone with different insurance premium rates that is suitable to each individual's financial status. People with low income are able to receive a pension in retirement.
2. Choose your own retirement time:
Early retirement is what many people desire, so they can go doing what they enjoy but many also want to retire late because they love the work that they do. Some people plan out their retirement plans early while other only start when they are reaching their retirement. That's why iWish has a choice of retiring at many ages from 55, 60, and 65 years old. You can choose whenever you want to retire.
3. A higher pension raised over time:
Retirement is the time when we are not able to make a lot of money any more also with the cost of living increasing everyday due to inflation rates along with daily expenses to take care of ourselves and pension rate that is the same since the age of 60, 80 to 90 years old can make it difficult for many. That's why this product is different from others by giving more rewards in each stage of your life according to expenses in different stages of your age.
4. Protect your life and your money at the same time:
Other than the importance of savings and pensions that we are going to use in our retirement, the more we age the more chances that we are going to have to spend money on hospital treatment fees, This product covers situations from emergency situations that need to be treated in the ICU or surgery that might cost us a lot of money.
If we understand how to plan our retirement and we start doing it today by examining our needs, and look for insurance premiums and rewards that we will receive in terms of pensions or other protection plans. We will be able to plan out our retirement efficiently and live a happy life.
Recommend Products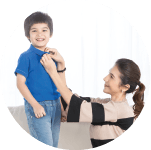 Because certainty can sometimes be uncertain

"iProtect" leaves a heritage that ensures the future of your "loved ones".
Benefits

High coverage with hundreds premium per month*

Add more coverage with Riders attachment

Premium is Tax deductible**