You Are What You Eat, another phrase that uses to inspire elderly and their family to notice the importance of health for the elderly. As you get older, your whole body system's functions decreases, this will then results in several health issues. Therefore, having a knowledge of common health conditions associated with the elderly is very important.
A lot of families are now trying to encourage the elderly to exercise together in order to keep fit, for example arm-swinging, jogging, swimming and yoga. Clean eating is also an important factor of keeping the elders healthy, by consuming food with high fat will not be good for the digestive system, which will then result in having leftover foods in the intestine. Consuming too much sodium can also cause a kidney disease.
The secret in choosing the appropriate food for the elderly starts from these 3 steps.
- Reduce white rice, increase brown rice because older people cannot digest carbohydrate and sugar well, and there are lots of good vitamins in the brown rice for the health.
- Reduce meat, increase fruits and vegetables because the fibres in fruits and vegetable will help with the digestive system
- Have vegetable soup regularly, because there are full of nutritious, easy to eat and also increase the appetite.
We, Krungthai-AXA, have a 'clean-eating' menu that is healthy and delicious, which is "Tom-Yum Seabass"
Ingredients
1. 400 – 500 g of Seabass
2. 1 tablespoon of finely chopped garlic
3. 2 – 3 Kaffir lime leaves
4. 2 lemongrass stalks, cut in half, chopped
5. 2 – 3 pieces of chopped Galangals
6. 2 – 3 grilled red onions
7. 2 – 3 chilies
8. 2 stalks of finely chopped culantro
9. 2 tomatoes
10. Low-sodium fish sauce
11. Stevia Sugar
12. 3 lemons
13. Seasonings made from vegetables or seasonings for 'clean-eating'
Directions
1. Put water in a pot to boil. Once it's boiled add chopped lemongrass, chopped garlic, red onions, chilies and the kaffir lime leaves.
2. Leave to boil until you can smell all the herbs. Add Seabass, stir gently.
3. Season as you like with the seasoning for clean-eating and add some fresh limes.
4. Serve in a bowl.
We, Krungthai-AXA, would suggest that you serve the 'Tom-Yum Seabass" with freshly cooked brown rice, along with 1 boiled egg, you will have an excellent healthy meal, that is delicious and packed with lots of nutritious and is suitable for the elderly. It will be even better if the elderly can do regular exercising because will result in a healthy and happy elderly.
Recommend Products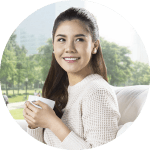 iShield Extend the good times, with continuous critical illness cover.
An alternative to help protect you and your family's happiness from critical illness. Plan now, do not let critical illness devastate your life.
Benefits

Short premium payment period and level premium to support longer happier times

70 Critical illness covered by iShield, both early stage and major stage critical illness

Basic policy premium is tax deductible (Subject to revenue department announcement)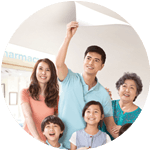 The new definition of Critical Illness insurance

that covers up to 100 critical illnesses from early to intermediate to severe stages, allows multiple claims of up to 6 times sum assured, and assures that your policy will remain in effect even when diagnosed with a critical illness.
Benefits

Coverage of up to 100 illnesses from early to severe stages

Multiple claim benefit of up to 5 times sum assured

Additional 10 juvenile illnesses (total of 6 times sum assured for children aged 1 month - 18 years old)