Do you know what the scariest thing is when you start working? Hard work? (Probably not!) Bad co-workers? (No!) Your boss? (Maybe!) The answer is financial issues.
When we all started working and our income is able to make us provide for ourselves, we think about our expenses, responsibilities of our daily needs. Or it might be little expenses here and there buying a gift for yourself to stimulate your declaration of freedom.
But wait!! The first important step that shouldn't be missed is "financial management". Think about it, even if you work longer gaining more experience and income, the horrible thing that comes with it is more expenses and payments. Expenses that are growing faster than a weed like taking care of your family members especially your parents or your children and nieces. Including endless health issues that come with age and etc.
Because life isn't a joke, everyone must have a good foundation and plan set. Things for working aged people like us need to plan is our finances. The faster the better, because we can be prepared for problems that might surface in the future and deal with them with ease.
Now, many of you may wonder what the 3 steps that working aged people need to have planned is. Today we will reveal 3 tips on how to managing your money for free! Let's get to it.
1. Emergency Money: Before you invest your money or spend it, or try to expand things in your life. Please ask yourself that, "If you get fired today where will you find more money to spend?" "And in how many months can you land a new job?" This is a question that reminds that us working aged people need to have "emergency savings" I recommend that you need at least 3-6 times more than your monthly salary. For your own convenience even if you run into some trouble.
If you don't have any emergency money saved, just think if you run into any trouble, how will you find more money? If the answer is "making loans" I can tell you now, start saving that emergency money today because your life is about to run into problems without even knowing.
2. Retirement Money: Another financial matter that working aged people cannot forget to plan is retirement savings when we turn old. I mean old people without work because no one can work to their graves. (Because no one will hire you) That's why we need to assure that we are well without any income in our retirement and that our retirement savings will help us have a good life. Those who are single without any children to take care of them (or some that don't take care of their parents) need to plan out their retirement savings as soon as possible.
The best time to save for retirement money is when you just started working. The faster you start planning your retirement, the less you'll have to save every month. The benefits of reward and compound interest overtime can make you unbelievably wealthier.
3. Insurance: Many people would overlook the last step of the plan, which is making insurance to protect you from risks that could happen in life. Nowadays there are many different types of insurance to choose. The people who don't have much to spend on insurance premium can choose a lengthily protection plan for savings and reduce tax. It will assure us that the ones we leave behind after we die won't suffer. There are many insurance plans to choose from, choose wisely suitable to your situation.
Now you see, that working aged people like us need to give more importance to financial planning's so you can be ready to deal with all aspects of life, because we will never know what's going to happen in the future.
Before we part ways, I want to remind you that the 3 tips on financial planning are very important and everyone needs to know this. After you learn it, the more important thing is to start applying it so that our lives can avoid failed goals and dreams just because you "forgot to plan".
Recommend Products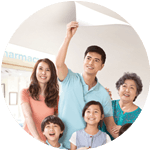 The new definition of Critical Illness insurance

that covers up to 100 critical illnesses from early to intermediate to severe stages, allows multiple claims of up to 6 times sum assured, and assures that your policy will remain in effect even when diagnosed with a critical illness.
Benefits

Coverage of up to 100 illnesses from early to severe stages

Multiple claim benefit of up to 5 times sum assured

Additional 10 juvenile illnesses (total of 6 times sum assured for children aged 1 month - 18 years old)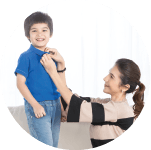 Because certainty can sometimes be uncertain

"iProtect" leaves a heritage that ensures the future of your "loved ones".
Benefits

High coverage with hundreds premium per month*

Add more coverage with Riders attachment

Premium is Tax deductible**