How much tax do I pay for this income?
Generally, an individual who has an income has to submit the Personal Income tax form once a year, If you start earning your income this year, then you have to submit the form by 31st March of the year after. However, if the form is submitted online, the deadline of submission might be extended.
Tax is calculated by annual income – expenses – allowances and deductions = net income.
The net income will then be calculated into tax rates, depending on the scale of your net income, which is the rate that individual taxpayer will have to pay per year.
For example, this rate is from 2017
Net income per year (baht)
500,001 – 750,000, Tax rates is 15%
750,000 – 1,000,000, Tax rates is 20%
1,000,001 – 2,000,000, Tax rates is 25%
2,000,001 – 5,000,000, Tax rates is 30%
5,000,001 and above, Tax rates is 35%
From the rate above, it is clear that the higher your net income is, the more tax you would have to pay. However, when calculating taxes, you can use different expenses for to reduce the amount of tax you have to pay, for example, self-care allowance, family allowances, Insurance premium, savings, investments, donations, Mortgage interests etc.
The expenses from all the allowances and deductions are usually the expenses that everyone pays. However, for those who would like to have a long-term life plan or long-term financial plan then life insurance or health insurance is something to consider. This is because, not only you can use the insurance premium for tax deduction, but you will be covered by the insurance from all the risks and also benefit from the insurance policy, which is the main reason for the long-term financial plan and the stability of yourself and your family.
You can choose to pay for the insurance premium within the specific amount and period indicated by the Revenue Department for premiums deducted each year. This will also be beneficial to you because you can choose the plan that matches your needs in all aspects including life and health, for example Life legacy – the plan that protects your life and income, which will allow you to deduct up to 100,000 baht* or iRetire – the plan which you can plan and live your retired life happily, which will also allow you to deduct your taxes up to 200,000 baht.* Moreover, if you want a good health insurance that will allow you to deduct up to 15,000 baht* then we (Krungthai-AXA) would like to recommend iHealthy – a health insurance that covers all medical expenses, anywhere, and anytime. Another interesting insurance would be the iShield, this life insurance also covers all stages of all deadly disease up to 70 diseases as well as up to 100,000 baht tax deduction on the life insurance.*
However, for the year 2018, if taxpayer would like to use the insurance premium for tax deduction, the insurance company must be informed in order for the company to give the insurance premium information to the revenue department – so that the taxpayer do not have to submit extra documents for the tax deduction.
*All terms and conditions are subject to the discretion of the Revenue Department Thailand.
Recommend Products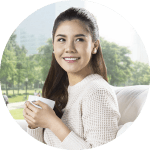 iShield Extend the good times, with continuous critical illness cover.
An alternative to help protect you and your family's happiness from critical illness. Plan now, do not let critical illness devastate your life.
Benefits

Short premium payment period and level premium to support longer happier times

70 Critical illness covered by iShield, both early stage and major stage critical illness

Basic policy premium is tax deductible (Subject to revenue department announcement)