Fruits are very important to our health because there are many chemical compounds that are good for you, especially Phytonutrients, the compound that could only be produced by plants. Fruits and vegetables that are different in colours also produces different chemical compounds, which can be categorised into 5 different colours that benefit our health differently.
White fruits and vegetables has xanthone that has antioxidant properties, reduce cancer cell division, help maintain the blood sugar level, reduce inflammation, help reduce hyperlipidemia, help with lowering blood pressure, help reducing the risk of heart failures as well as reducing pain from the joint.
Examples of White fruits and vegetables are: mangosteen, banana, pear, custard apple, Chinese pear, lychee, Job's tears, beansprouts, soybean, garlic, radish, sesame, ginger, cabbage, mushroom
Green fruits and vegetables has many important and benefitable chemical compounds.
- Cholorophyll has antioxidant properties, anti-aging, urge the Excretory system, help urging the production of white blood cell systems, help build the immune system, purifies the blood, helps with detoxification, and adjust body acid balances.
- Indole is a chemical compound that helps urge the liver system to produce the enzyme which is an anti-cancer chemical compound. It also helps reducing the excess estrogen in our body.
- Lutein & Zeaxanthin has antioxidant properties which helps prevent Cataract and Macular Degeneration.
Examples of Green fruits and vegetables are Kiwi fruits, Green Apples, Green grapes, Avocado, Cucumber, Green Cabbage, Green beans, Broccoli, Kale, Asparagus and Spinach.
Yellow and Orange Fruits and Vegetables are full with vitamin C and has many more important compounds which are:
- Beta-Carotene help reduce the aging of body cells, reduce the cholesterol level and help reduce hyperlipidemia.
- Lutein is great for your vision and help prevent some vision-related disease for example Macular Degeneration, Cataract and also helps with skin.
Examples of some Yellow and Orange fruits and vegetables are carrots, sweet potato, orange, bell peppers, papaya, pumpkin, durian, jack fruits, corn, pineapple and cantaloupe.
Red fruits and vegetables has Lycopene and Betacycin which helps prevent cancer in many parts of our body, especially Prostate cancer, Lung cancer and Gastric Cancer. It also helps reduce the level of LDL, slows down the chance of getting Cardiovascular disease, reduce blood pressure and reduce the coagulation of the blood vessels.
Examples for red fruits and vegetables are red apple, watermelon, strawberry, cherry, roselle, cranberry, raspberry, tomato, red cabbage, chilli, shallots, rose apple, pomegranate, red grape and papaya.
Purple fruits and vegetables has anthocyanin which has twice as much antioxidant properties than vitamin C and E. IT could prevent many kinds of cancer, help with the blood flow, reduce the cholesterol in blood, it is also anti some types of viruses and also reduce inflammation.
Examples of purple fruits and vegetables are taro, butterfly pea, eggplant, purple grapes, purple cabbage, purple sweet potato, Jambolan plum, blueberry, blackberry, prune, plum, Black Sticky Rice (Glutinous Rice), Red Rice and Brown Rice.
These colourful fruits and vegetables are not only delicious, but it's packed with many benefits to our health. Therefore, keeping these colourful fruits and vegetables in your diet is a must-do. You can choose to eat them fresh, make a smoothie or even a salad, these menus are all good for your health.
Recommend Products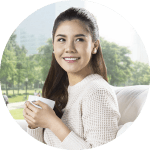 iShield Extend the good times, with continuous critical illness cover.
An alternative to help protect you and your family's happiness from critical illness. Plan now, do not let critical illness devastate your life.
Benefits

Short premium payment period and level premium to support longer happier times

70 Critical illness covered by iShield, both early stage and major stage critical illness

Basic policy premium is tax deductible (Subject to revenue department announcement)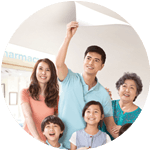 The new definition of Critical Illness insurance

that covers up to 100 critical illnesses from early to intermediate to severe stages, allows multiple claims of up to 6 times sum assured, and assures that your policy will remain in effect even when diagnosed with a critical illness.
Benefits

Coverage of up to 100 illnesses from early to severe stages

Multiple claim benefit of up to 5 times sum assured

Additional 10 juvenile illnesses (total of 6 times sum assured for children aged 1 month - 18 years old)