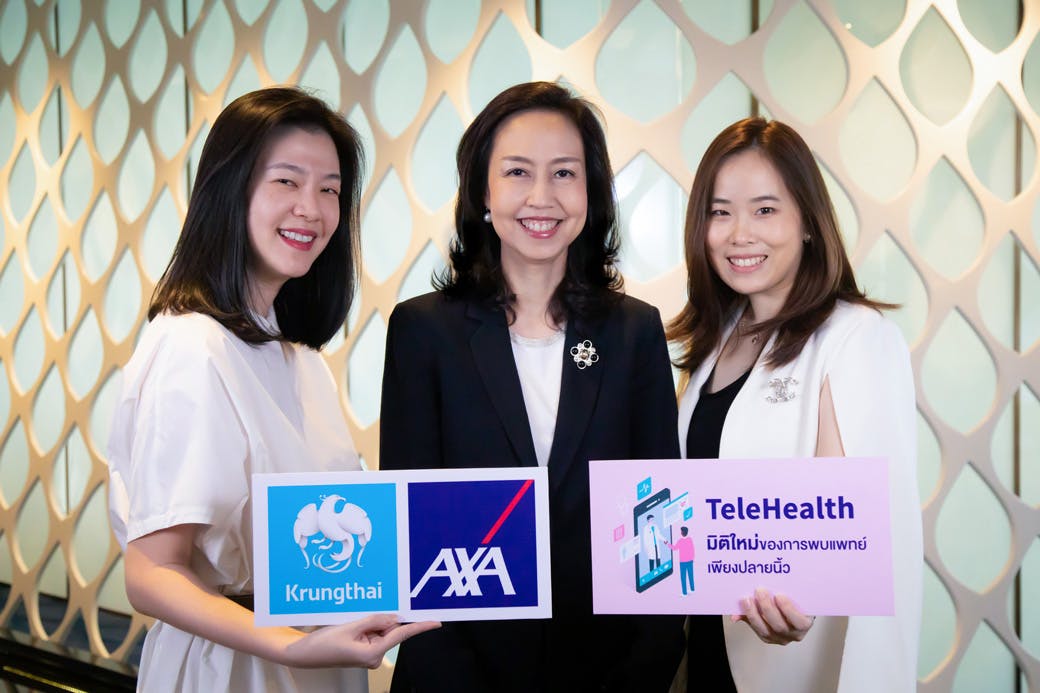 Krungthai-AXA Life, a market leader in Health & Protection Insurance, has launched TeleHealth, a new virtual care offering that brings the medical expertise of some of Thailand's best Doctors right to its customers. In partnership with CLICKNIC's TeleHealth application, the service will provide access to high quality, online medical services from anywhere, making healthcare simpler and easier to access for customers.
By downloading CLICKNIC's application, KTAXA's customers can access professional healthcare services immediately, regardless of where they are. The online application is a great option for people who may not be able to physically access healthcare services, due to mobility restrictions, because they live in remote areas, or if they simply do not have transportation to get to a doctor's office. Furthermore, at a time when social distancing is among the major measures used to fight the COVID-19 pandemic, TeleHealth is the ideal solution for safe and efficient communication between patient and Physician.
Customers can communicate by video with Doctors in Thailand from their own homes and can be treated for routine illnesses. If it is an emergency situation including an accident, critical illness or a serious bodily injury, patients must go to the hospital.
Mrs. Sally O'Hara, CEO of Krungthai-AXA Life Insurance, said "Through our 'Know You Can' campaign, we want to encourage our customers to have self-belief and help them go further so they can reach their goals. By bringing safe healthcare right to their doorstep, we are providing customers with greater control of their health and the freedom to do more and fulfil their dreams."
How to access 'TeleHealth' via Clicknic
1) Download CLICKNIC's TeleHealth application on your device
2) Then register with your national ID card and link your policy number to the application
3) Please note that after registering your personal information, you will see a few insurance companies in the app and you can choose which company you want to deduct OPD benefit from.
4) After linking your policy to the application, you can start to have teleconsultation by clicking 'request doctor' at the bottom of the screen and an available doctor will make a VDO call back to you within 15 minutes.
5) You can also choose to obtain medicine, if prescribed. A pharmacist will call you back to explain how to use the medicine. At this stage, you can opt not to receive some of the medicine that you may already have at home e.g. paracetamol
6) Messenger will call you to confirm all details
7) TeleHealth expenses will be deducted from your OPD benefit.
For further information on TeleHealth please contact 1159 24/7.